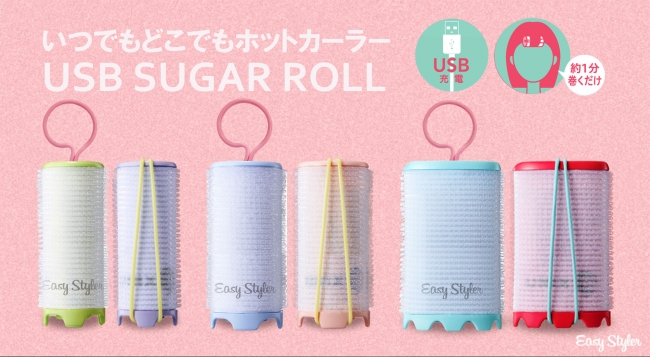 Cogit Easy Styler USB Sugar Roll Strawberry (Round-38mm) 
To add top volume
Wavy hair
airy, trendy bangs
To fix messy hair in the morning 
Direction
Connect a 5-pin USB cable and hair curler. Charge until the LED light turns from Red to Blue (approx. 2-3 minutes).
Disconnect from the USB cable and curl bangs with a hair curler and secure with a hair ring.
Leave it for 1 minute and remove the hair curler. Finish by styling bangs with a comb. 
* Use hair styling products after curling hair. It maintains the hairstyle longer. 
USB Charging Guide
Approx. 2 minutes: Heats up to 176°F/ 80 °C

Approx. 5 minutes: Heats up to 212 °F/ 100 °C
寇吉特 Easy Style USB便捷卷发器 (38mm)
不仅造型小巧、方便携带,而且可以使用 USB 插口进行供电,随时随地打造出空气感刘海。这款便携卷发器的使用方法也非常简单,只需要将产品连接普通的移动电源即可开始使用。通电 2 分钟温度可达 80℃ ,通电 5 分钟温度可达 100℃ 。等到指示灯变为绿色则表示充电加热完成,可以开始使用。这是,将卷发器卷上发梢, 1 分钟后取下,即可完成自然卷曲的造型,十分适合上班族和学生党在闲暇时使用。