LG
LG AIRWASHER Black Particulare KF94 Mask 韩国LG生活健康 KF94黑色成人口罩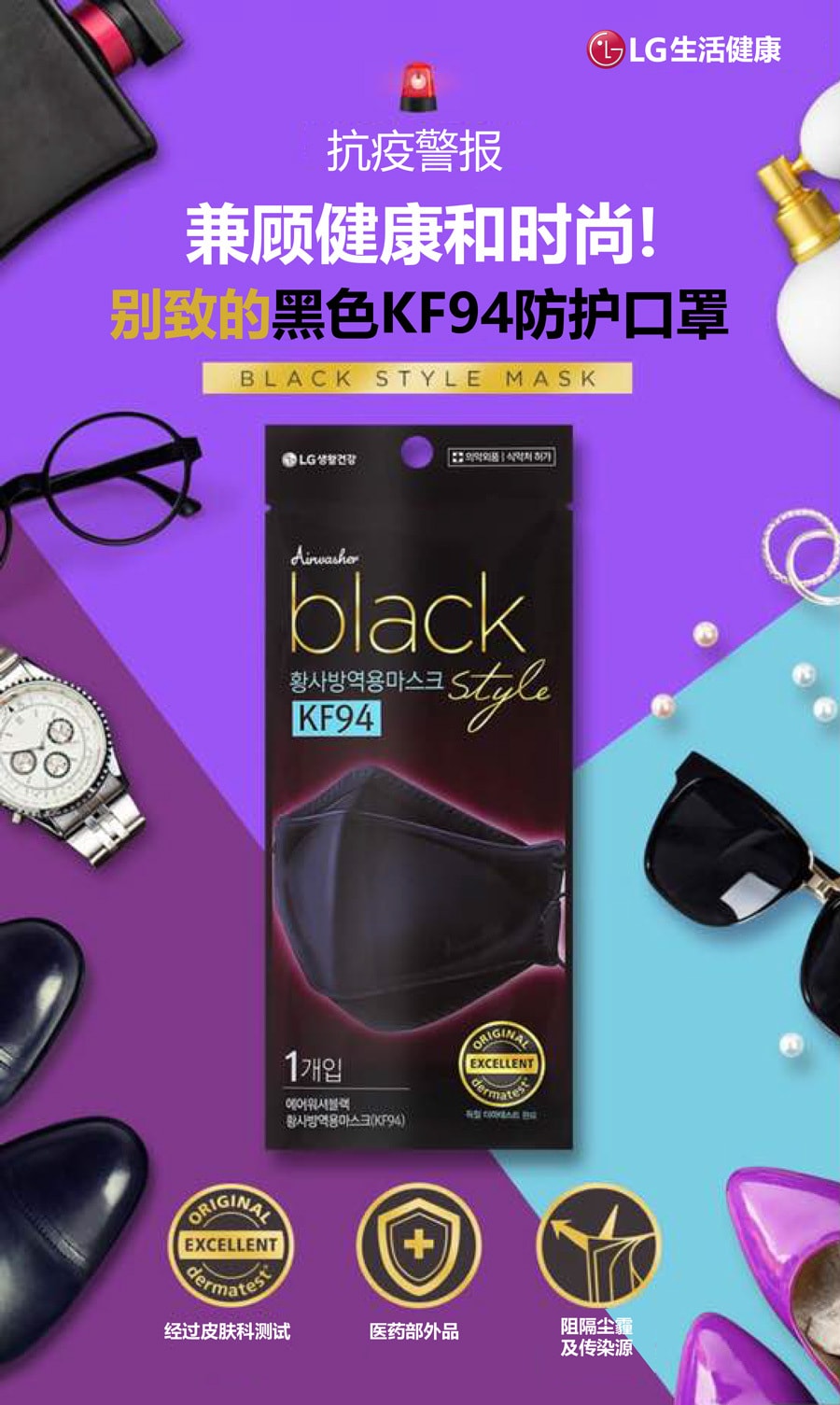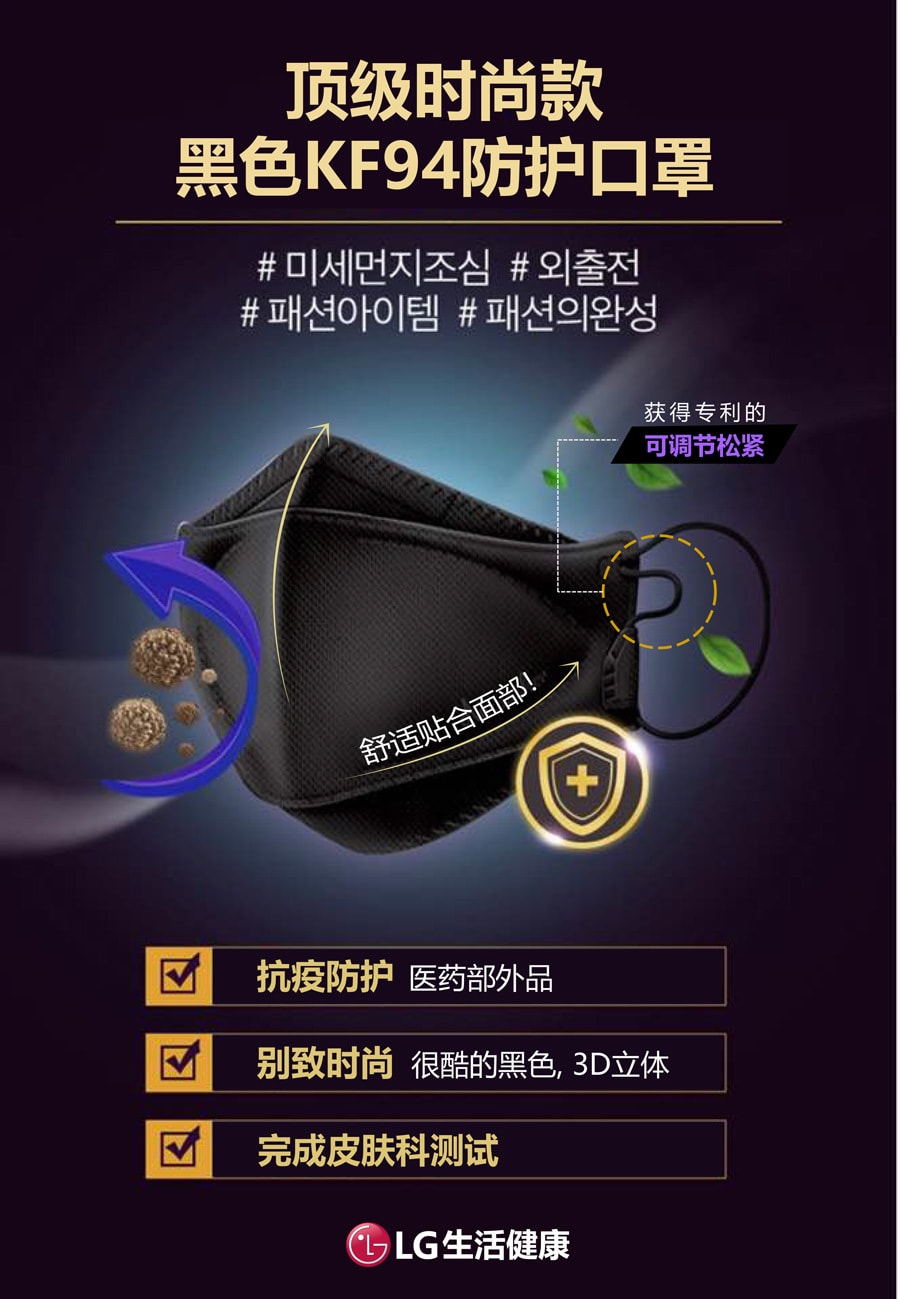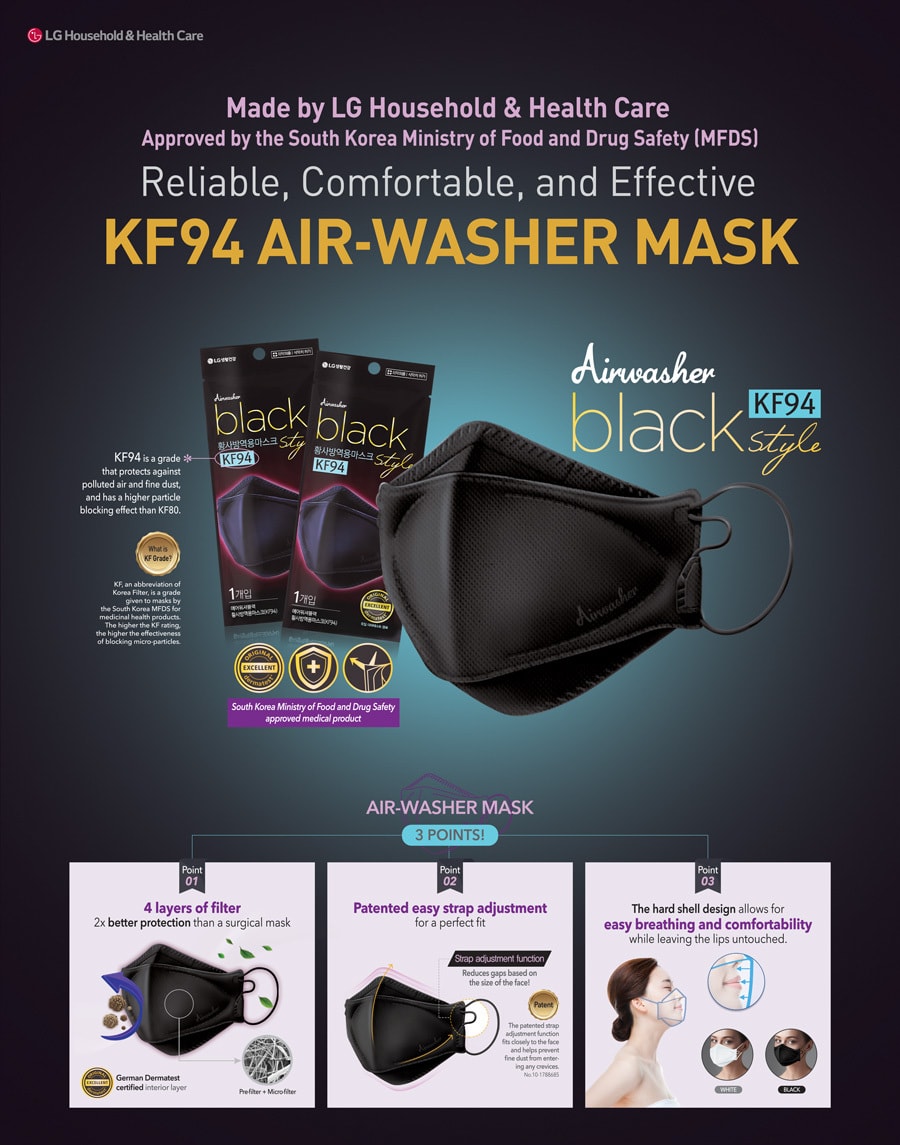 AIRWASHER Black Particulare KF94 Mask
Made by LG Household &Health Care, approved by the South Korea Ministry of Food and Drug Safety (MFDS)
FOR EXCELLENT PROTECTION FROM TRUSTED BRAND LG, A NEW STYLE HAS COME OUT FOR THE FAMOUS LG AIRWASHER KF94 MASK IN BLACK.
Made with a soft Nylon elastic for a very comfortable fit around the ears Made with a 3 section to provide a comfortable fit with the proper coverage around the face & nose. Easy to breath, does not hurt your ears after long time use, Elastic soft string adjustment to fit comfortable on your face. Easy ear control with adjustable ear straps, does not collapse, does not bend uncomfortably, sturdy and will not dent makeup for ladies, does not fog glasses, Adjustable straps.
Features:
One size fits all: Elastic ear loop poses less press to ears and face, avoid being uncomfortable from a long-time use.
Effectively blocks ~94% or more of viruses, bacteria, fine particles, pollution, and outside debris.

4 Layers of Protection Filter

With Wire for Nose & Soft Earband for best protection and comfortable experience

3D Structure for Easy Breath

Individual packaging: Each mask is packed individually for Hygienic purposes
How to use:
1, Make sure that the surface in contact with the mask is not contaminated.
2. Wear the mask to cover your nose and mouth with the nose-holding piece facing up.
3. Hook each strap over your ear to lock them in place.
4. Make sure the mask is in close contact with your face without a gap.

Precautions for Use:
*May be worn multiple times before discarded.
*DO NOT WASH FOR REUSE.
*Storage: In a sealed pack at room temperature

Materials: 
Outer layer (Non-woven Polypropylene), Middle Layer (Non-Woven Polypropylene), Filtration Layer (Non-woven Polypropylene) Inner layer (Non-woven Polypropylene), Nose clip (Polypropylene/Iron), Earband (Polyurethane/Nylon)
韩国LG生活健康 KF94黑色口罩
由韩国LG生活健康出品的airwasher口罩为KF94级别,内含4层滤网有效阻挡94%达到0.4微米的微粒,挂耳带长度可自由调整,将口罩尽量贴近面颊,以免口罩形成罅隙,令病毒细菌从空隙接触口鼻。 
由柔软的尼龙弹性材料制成,可让耳朵周围非常舒适地贴合。由3个部分组合,可提供舒适的贴合性,并在面部和鼻子周围适当覆盖。3D结构易于呼吸,长时间使用后不会伤害您的耳朵,弹性柔软的弦线调节使您的脸部舒适。可调式耳带可轻松控制耳部,不会塌陷,不会不适地弯曲,坚固且不会压低女士的妆容,不会雾化眼镜,可调式带子。4层保护过滤器。独立包装更加卫生。无异味。
可以阻挡飞沫

获得韩国口罩证明

获

得韩国KF94认证
韩国食药局医药外用产品
*清不要重复使用